Who we are
Uniwood, comes from a family-run company founded almost half a century ago. We have grown steadily over the years based on our rich experience and expertise in woodworking. Our success is primarily due to the vision of our founder, who is still at the helm of the company, supported by his two children. Our parent company, GEMWOOD, has a strong international presence in the UK, USA, China, Japan, Korea, Indonesia, Spain, Italy, Mexico and the EU. We have been exporting tonewood for musical instruments to some of the top names in the musical instrument manufacturing world - Taylor Guitars, CF Martin, Fender and Gibson.
1973
Made initial foray
into wood
business as
facilitator for
global business in
wood and
wood products.
1995
Took first step into
manufacturing by
setting up a saw mill
operation and
exporting
from there.
2003
Uniwood products is
set up to manufacture
highest quality
chemically treated
finger joint solid
wood panels and
rubber wood
products.
2008
Commissioned
imported veneer slice
plant mainly to cater
to the international
market needs.
2009
Started addressing
the needs of domestic
real estate sector by
manufacturing doors
and decorative veneers.
2014
Ventured into
modular division
unit to tap into
burgeoning
domestic market's
need and offer
custom solutions
from a plethora of
options.Sapele,
Designer wood
flooring tiles.
Teak, Walnut,
2015
Expanded
manufacturing
facilities by installing
veneer slicer and
other machineries.
2016
To create touch and
feel experience for
the customers we
setup our experience
zones in Cochin,
Coimbatore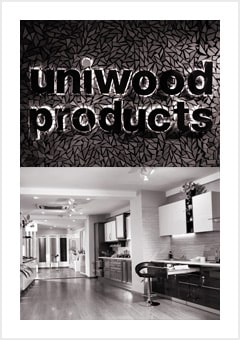 Mission
Deliver world-class home interiors at affordable prices
Vision
Be a leading furniture manufacturer, synonymous with global standards for creating luxurious, functionally efficient homes
Our culture & values
To maintain very high standards, Uniwood is driven by a set of core values and a code of conduct that touches everything we do.
Quality Focus
It's in Uniwood's DNA to provide the highest quality products to our customers.
Value for money
Provide a wide range of well designed high-quality home furniture comes at a price point that will delight customers.
Customer Focus
Listen closely to our customers and meet their unique preferences and specifications.
Innovation
Work diligently on identifying new technologies, materials and improving our systems and process.
Ethics
Follow a culture of respect and a very high standard of fairness, honesty, respect and integrity in everything we do.
We delight our customers with a wide range of high-quality luxurious furniture in exquisite designs, manufactured with precision and superior finish. Among our valued clientele are Hettich India Showrooms, Keys Hotels, The Leela Raviz, Kent and many private residences
High Tech Manufacturing Facility
Uniwood synergizes fine craftsmanship in wood with advanced automated manufacturing technology which can be globally benchmarked. Technological advancements and innovation are at the heart of our value chain. The group's facilities encompass 1,25,000 sq. feet of buildings, with the production plant, showroom and administrative offices.
Our factory is the place of your furniture's creation – it's careful progress through each phase from initial brief until production is completed, and it is ready to be shipped.
We count on the most reliable machines to produce superbly crafted furniture with the highest quality finishes to give it that flawless look.
In Uniwood's exceptional modular systems, the design, attention to details – make the crucial difference that satisfies the needs of the most demanding and sophisticated user. For our design team aesthetics are important, so is functionality and organization.
Made Different
Modular furniture from Uniwood stand out for their quality, timeless designs and refined elegance. This combined with great functionality and innovative solutions make these modular units synonymous with luxury lifestyle
Calibrated Marine Grade Plywood
Edge banded on all the sides
From an Idea, to Design,
to Manufacturing
& Installation
From an Idea, to Design,
to Manufacturing
& Installation
Greater beauty resides within! Next to excellent base materials, fittings and accessories make kitchens rock-solid, kitchens that stay not only beautiful but also remain functional for a lifetime. These accessories support diverse cooking styles and also adds an elegant look to the kitchen
Great food is only as good as the ingredients that go into it. Most modular kitchens look great, but can it take the rough handling, water & moisture, heat? Will the doors start sagging? Will drawers close smoothly after years of use? Will it take all the heavy utensils? It depends on the quality of base materials used for cabinets, the fittings & accessories
At Uniwood, the process of building an extraordinary kitchen starts with sitting down with the customer, patiently understanding said and unsaid requirements. Then we draw upon our deep understanding of technologies, manufacturing processes, and craftsmanship to create elegant solutions that are unique, functional, and above all, comfortable
We invite you to visit our unique touch and feel experience design centres to experience first hand the quality and finish of our products
PRODUCTS
At Uniwood, we delight our customers with a wide range of high-quality,
luxurious furniture in exquisite designs, manufactured with precision and superior finish.
Modular Furniture
Uniwood's range of furniture includes Modular Kitchens, Cots, Wardrobes & other living room furniture like TV Units, Crockery Units etc. All these products are custom designed according to individual customers requirements.
Ready to ship units
Uniwoods ready to ship furniture includes dining tables, chairs, sofa units, cutting boards and more.
Engineered Wood Flooring
Engineered floors are made up of multiple layers of wood that are glued together as one board. The top decorative layer is wood. The bottom layer is usually marine grade plywood. It is made with an interlocking tongue and groove system similar to standard strip flooring.
Awards and accolades
Our determination to offer high-quality service to our clients – has bestowed on us a few awards and accolades along the way.
Subscribe to our newsletter!
Sign-up here to get the latest news, updates and special offers delivered to your inbox.