TV Unit – The showstopper of the living room
With minimal space utilization, this TV Unit delivers an indispensable piece of stylishness to your living room. Canadian walnut dark and frosty white color combinations ensure an eye-catching look to the invitees. To make the area look more elegant, we use Cappuccino, the shade of the popular drink, and its brown tone to underline the aesthetic appeal. Overall, a great addition to the living room narratives! 
Nothing could be more relaxing than a home bar, especially for those who enjoy a drink after a hard day's work. With Lilly white color and glass plus matte finish, this bar counter area has a touch of charm. The Canadian walnut exposed area, sitting benches, and warm lighting make this area a classic relaxing place. Overall, the perfect spot to sit and enjoy your favorite drink. Cheers!
Wall Niche-Ideas to decor your wall
Here, the living room corner space is made helpful with a beautiful niche – another proof of the utilization of every little corner of the house. The Canadian walnut dark and frosty white combination melts perfectly with the living room décor. The use of plain glass shelves and glossy finishes makes cleaning very easy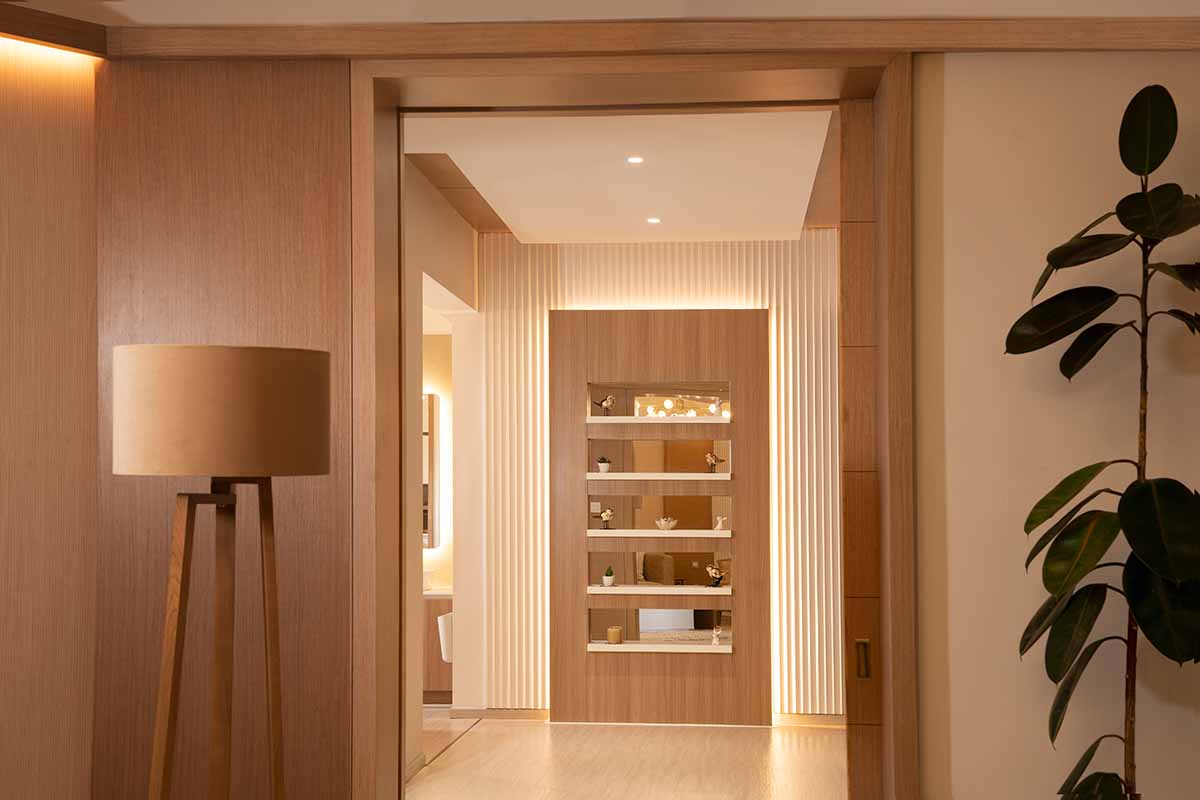 Partition unit- Bolsters the stunning look of the dining area
Without taking a lot of space, the partition unit is decor with a plain glass shelf. To integrate with the living room, dining room, and the TV unit, we have also given the same color combination – Canadian walnut dark and frosty white combination. Depending on the occasion, you can decorate the space with candles or plants. It is also used as a showcase to display some arty things – it's all up to you
Bedroom – Designed for Ultimate Comfy
After the hectic work schedule, the cozy and serene bedroom is a relaxing place for us. Right? So, here we make the bedroom sleek, straightforward, and elegant
Wardrobes are another smart element for your much needed storage space in the bedroom
An attractive wardrobe is placed with the same color combination, adding a chic touch to the room. Beside the bed, you can find a cute nightstand with storage for your utmost convenience. The blend of soothing light colors and simple accessories give an airy and inviting feel
The kitchen is undoubtedly the most used space in houses, and it is essential to space it up accordingly to manage your time
The combination of Champagne Gold color and Cappuccino HGL glass finish makes this kitchen more alluring while adding a bold new look. This L-shaped modular kitchen with ample storage space ensures ease and comfort for users with a highly functional and comfortable workspace