There are different types of engineered wood available in the market apart from solid wood such as plywood, particle board, MDF, HDF, etc. Each of these materials have their own distinct characteristics. They have different applications. Common people may be confused so as to how these materials differ. Here are some common differences in these materials.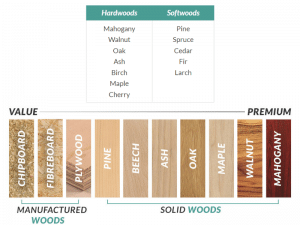 Solid Wood
Solid wood is used since centuries to make wooden framed structures.
It is also used to make durable furniture, both indoor as well as outdoor, also used to make door and window frames, crates, boxes, general mill work and ladders.
Plywood
Most commonly used for making custom built furniture for home and offices.
It is also used in building construction in the form of concrete shuttering panels, floors, walls and roofs.
HDF
HDF is preferred for furniture where heavy traffic is expected, such as in hotels, cinemas, government offices etc.
As, it is more resistant to moisture, it is used as a core material for laminate flooring.
MDF
It is mostly used for making furniture, cabinets, and shelves in storage units. They are extensively used in decorative wall cladding and embossed jalis.
Transparent partitions are also made by carving MDF board sheets to give contemporary or traditional look.
Particle Board
It is used in light weight furniture such as shoe racks, accent pieces, portable furniture, etc. where heavy loads are not applied.
It is used in modular office furniture, children furniture, computer tables, and wardrobes in areas where they are not in contact with moisture.
LIFE:
Solid wood is known to last for centuries. Plywood if laminated may last for 50 years. HDF and MDF are known to last for 25 years, while particle board has durability of 15–20 years.